The LED backlight industry might still experience an exceptionally cool season in 2016, but breakthroughs are expected in the tube light replacement market, said Epistar Chairman B.J.Lee at the 2015 Pan Wen Yuan Prize Award Ceremony at the Shangri-La's Far Eastern Plaza Hotel in Taipei, Taiwan earlier today.


The lighting application market is expected to support LED industry developments in the next two years, said Lee. "The lighting market penetration is projected to reach 30% to 40% within the next two years," he remarked when asked about his outlook of the LED industry.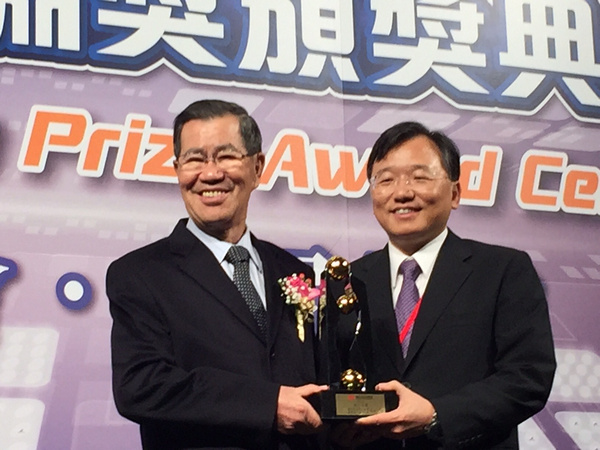 Epistar Chairman B.J. Lee (right) receives the 2015 Pan Wen Yuan Prize from former Taiwanese Vice President Vincent Siew (left) at 2015 Pan Wen Yuan Prize Award Ceremony that took place at the Shangri-La Far Eastern Plaza Hotel in Taipei, Taiwan today.

LEDs replacement of Compact Fluorescent Lights (CFL) is picking up at a rapid pace in the U.S. market, where the chairman projected LEDs will fully replace less efficient CFLs within the next two years. However, Lee was uncertain when lighting replacements would pick up in other global markets.

The U.S. market has taken the lead in the replacement of T8 LED tube lights with T5 LED tube lights, which Lee noted had little to do with the lights size. "T8 LED tube lights are being replaced with T5 LED tube lights because it is less efficient," explained the chairman.

Both T8 and T5 LED tube lights have omnidirectional lighting properties, where the light beam angle reaches 360 degrees. However, the tube light casing and ballast design can obscure most of the tube light emissions, especially the larger T8 LED tube lights making it less efficient than the T5 LED tube lights.

Lee highlighted breakthroughs in LED tube light replacement market next year will generate soaring growth in tube light retrofits. "In the past, it was very difficult for LED tube lights to replace fluorescent lights because they were less efficient," he added. "LED tube lights R&D in the last few years has pushed up efficiency to 120 lm/W, making it an ideal replacement for fluorescent tube lights."

LED tube lights remain an important retrofit product in commercial, industrial and other large scale project applications. Lee admitted the company still faces intense challenge from Chinese competitors in the general lighting market.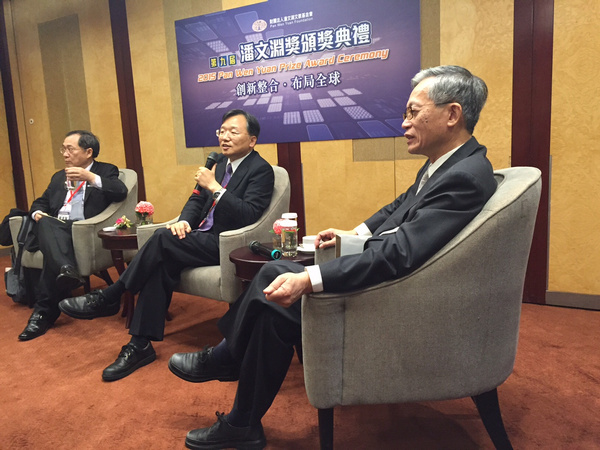 Left to right: Ta-Hsien Lo, Executive Officer of Pan Wen Yuan Foundation, Epistar Chairman B.J. Lee and Pan Wen Yuan Foundation Chairman Chintay Shih during the press conference after the award ceremony.

The lighting market will serve as an important growth driver for the LED industry next year, as backlight market continues its sluggish growth. "Growth in the backlight market is expected to remain incremental next year," said Lee.

Asked whether the company would consider absorbing other UV LED companies as part of its business strategy to acquire companies with technology know-how, Lee said it might consider in the future, but had no intention to spend cash on acquisitions at the moment. "We are currently collaborating with two UV LED companies," he added. "We have an open policy when it comes to UV LED technology, we develop in-house, but we are also open to cooperating with companies that have the most advanced UV LED technology."

Responding to the Boston University patent infringement case, Lee responded, "The LED patent involved is actually an expired patent, so it will have minimal impact on our company operations this year. This is just a preliminary jury decision, the district court has not made a final ruling yet. We expect the final ruling of the legal case to be reached within the next three years."

A Massachusetts federal jury in U.S. decided around mid-November, Epistar, Everlight Electronics and Lite-on need to compensate US$ 13.7 million to Boston University (BU) for willfully infringing LED patents, reported Law360 last month.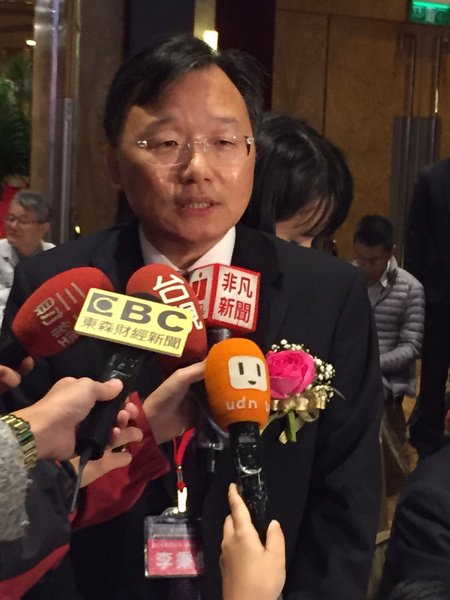 Epistar Chairman B.J. Lee surrounded by Taiwanese reporters and media before the award ceremony started.

About the 2015 Pan Wen Yuan Award

Lee was recognized for his pioneering work in LED technology, and contributions to Taiwan's LED industry by the Pan Wen Yuan Foundation. Epistar was the first company in Taiwan to develop AlInGaP technology LED in 1990s, when Taiwanese manufacturers had no control over upstream LED chip technology. He is the youngest Pan Wen Yuan Award recipient so far. The award is granted annually by the foundation to people that have excelled in Taiwan's technology industry and made significant contributions to the country's industry, with a prize money tallying NT$ 5 million (US $150,000).

More News & Info:
What is the LED Light Bar?
Which Country Has the Best LED Policy?