Single Row 100W LED Light Bar on Jeep
180W LED light bar and 100W LED light bar are using the latest LED technology and unique heat sink design.
Super bright Cree LED chips from USA, valid irradiation distance is much longer than a normal bulb.
Lamp cover adopted imported PC lens, high transmittance, anti high/low temperature burst.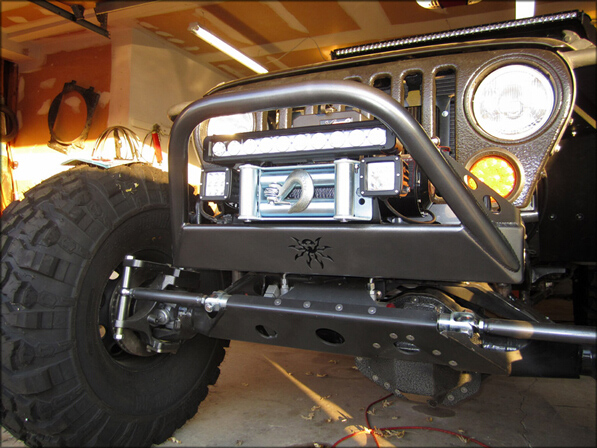 The LED light bars are also suitable for off-road vehicles, 4WD, SUV, UTV, ATV, automobile, jeep, tractor, trailer, excavator, road roller, bulldozer, crane, forklift, truck, mining truck, fire engine, police car, communication vehicle, rescue vehicle, military command vehicle, train, ship, boat, bus, tank, agricultural vehicle etc.

About the 180W LED light bar:
LED: 36 PCS*5W Cree chip (Made in USA)
Raw Lumens: 17820 LM
Size: 1246*45*92 mm (49 inch)
Has many sizes: 5", 9", 13", 17", 21", 25", 29", 33", 41" and 49"

About the 100W LED light bar:
LED: 10 PCS*10W (Cree XM-L2 LED)
Raw Lumens: 7500 LM
Size: Size: 438*60*90 mm (17 inch)
Has many sizes: 5", 8", 11", 17", 20", 30", 39", 42" and 49"

Related Projects/Products:
JC03118S-9W 18W 27W 54W 63W 81W 108W Off Road LED Light Bar for All Cars
JC10218D-40W 80W 120W 200W 240W Car LED Light Bar