According to the 2016 Global Lighting Market Report by LEDinside, a division of TrendForce, four LED specialty lighting applications that are attracting growing interests include horticultural lighting, surgical lighting, marine/harbor lighting and smart lighting. The combined market scale of these four applications is estimated to grow from US$4.36 billion in 2016 to US$16.4 billion in 2020, with the CAGR during this forecast period reaching 30%.

LEDinside projects that the scale of the global LED smart lighting market to hit US$2.35 billion by the end of 2016 and increase to around US$13.43 billion in 2020. On the whole, LED smart lighting has the most growth potential compared with the other three specialty applications.

"Generally, LED luminaires are now in a period of depressed prices," said Joanne Wu, assistant research manager of LEDinside. "Smart lighting, while is at infancy in terms of development and does not have the scale to exert significant influence, offers a lot of opportunities. The costs of related hardware and software projects are still high. However, the maturation of technologies and product designs, as well as marketing efforts from vendors, will encourage widespread consumer adoption. This application market therefore is expected to see surging growth in the future."

The outlook is also very bright for the LED horticultural lighting market. LEDinside forecasts that the scale of the LED horticultural lighting market worldwide will grow rapidly from about US$576 million in 2016 to around US$1.42 billion in 2020. "Changes in global climate encourages agricultural and livestock businesses to adopt technological innovations," said Wu. "Hence, LED horticultural lighting has a booming future due to the rising demand generated by advances in the cultivation of high-quality agricultural produce, livestock farming and fresh food storage. In the U.S., LED horticultural lighting particularly benefits from the expanding legal trades of medicinal and recreational marijuana in some states."

Demand for LED products in the surgical lighting application is picking up as LED light sources continue to improve in terms of luminous efficacy and color rendering. According to LEDinside, the scale of the global LED surgical lighting market will expand from US$612 million to US$787 million during the 2016~2020 period. Major regional markets for LED surgical lighting include Japan, Europe and North America. In the marine/harbor lighting market, products are governed by stricter regulatory standards and thus their average sales prices are also higher compared with general lighting products. For the LED lighting industry, LED marine/harbor lighting is a specialty application that provides high margins and a stable source of revenue. The total value of the global LED marine/harbor lighting market will come to US$820 million this year, based on LEDinside's projection.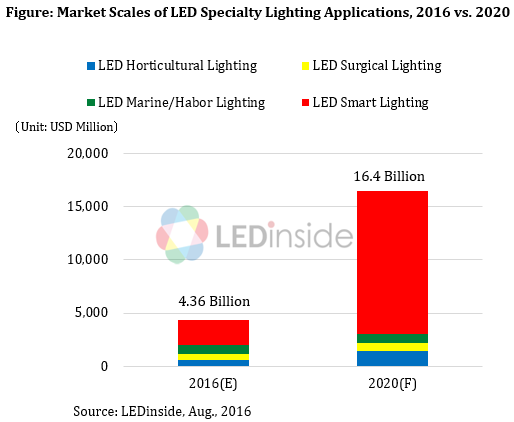 More News & Info:
The Amber LED Lights