Tomb-sweeping Festival Holiday Notice: 2th-4th,April,2016.

Festival History:
The Tomb-sweeping Festival is the most important day of sacrifice. Both the Han and minority ethnic groups at this time offer sacrifices to their ancestors and sweep the tombs of the diseased. Also, they will not cook on this day and only cold food is served.The Hanshi (Cold Food) Festival was usually one day before the Tomb-sweeping Festival. As our ancestors often extended the day to the Tomb-sweeping, they were later combined.

During Tomb-sweeping Festival on 4th,April, all cemeteries are crowded with people who came to sweep tombs and offer sacrifices. The customs have been greatly simplified today. After slightly sweeping the tombs, people offer food, flowers and favorites of the dead, then burn incense and paper money and bow before the memorial tablet.

In contrast to the sadness of the tomb sweepers, people also enjoy hope of Spring on this day. The Tomb-sweeping Festival is a time when the sun shines brightly, the trees and grass become green and nature is again lively. Since ancient times, people have followed the custom of Spring outings. At this time tourists are everywhere.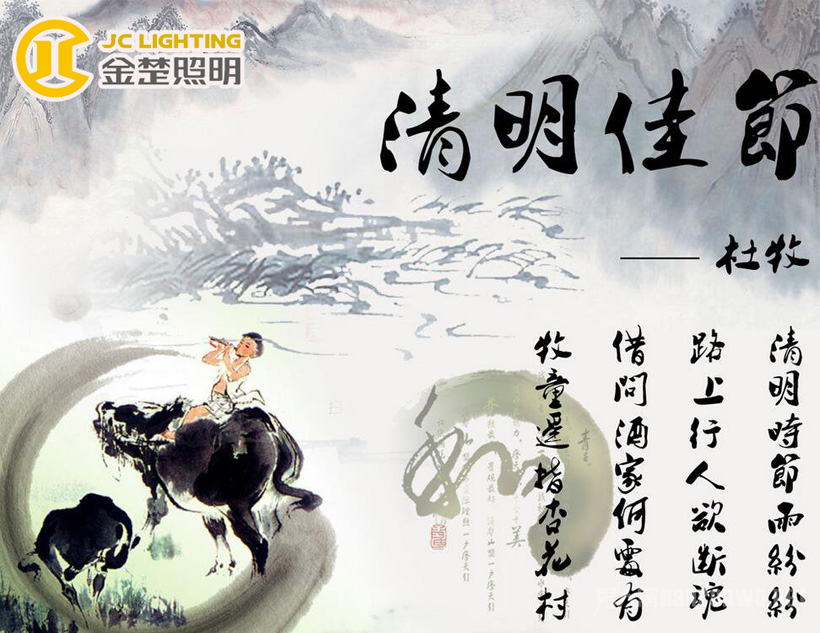 News & Info:
JC Lighting 119th Canton Fair Booth No. 2.1K20
We Will be Off From 3rd Feb. to 14th Feb.